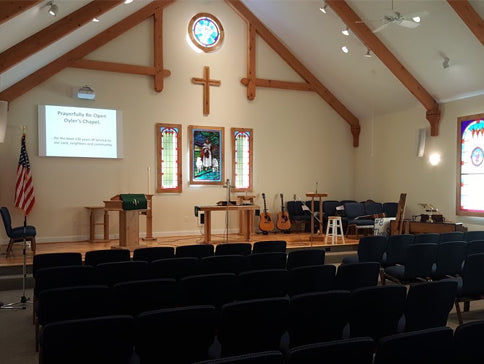 TECHNOLOGY SOLUTIONS FOR SMALL TO MEDIUM HOUSES OF WORSHIP.
Using the appropriate Audio and Video reproduction technology can help you turn your message into a compelling experience for the audience.
it is crucial that your message is seen and heard, but most importantly, it must be understood. Professional grade video and audio solutions, as a part of a well designed system, can be such a powerful ministry tool. We would love to help you find a solution that meets your needs, accommodates tomorrows needs and fits your budget.
SMART HOUSE OF WORSHIP TECHNOLOGY
We understand the unique needs and challenges of the House of Worship environment as well as the opportunities for technology to be leveraged as a tool to serve, reach and support your people. We understand these things because we serve in local congregations.
You don't do this every day, but you or your committee's decision will be seen and evaluated by a lot of people on a weekly (or more often) basis. It is important that you get the most for your money without becoming too complicated to use.
We've learned a lot working on our own House of Worship solutions, so let us share our learned lessons with you and your team as we work together to find the right solutions for your needs.
From adding a speaker to the nursery to help those volunteers stay connected, to adding video presentation for the first time, we are here to walk with you through the process.